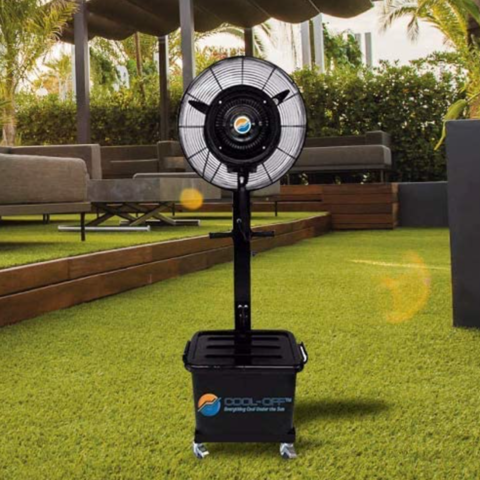 Misting fan
Cool-Off™ 10 Gallon water tank Tropic Breeze Portable Misting Fan with 90 Degree Oscillation
ART DECO MISTING FAN: A cooling mister fan suitable for outdoor use with low noise output and equipped with 3" Oversized Swivel Wheels and a safety break. You'll have no problem transporting this portable fan with mist to your patio and backyard, or pretty much anywhere you want to use it. The 8 to 10 -hour run time means you won't have to worry about this pedestal fan running out of juice and leaving you to sweat.
GOOD PERFORMANCE: Our oscillating misting fan is constructed using high quality materials that not only look good but are highly functional too. This outdoor rated motor and robust misting fan is an investment worth making as you won't have to worry about replacing it anytime soon. The copper motor is capable of covering 25 feet of outdoor space comfortably and it can go even further than that in calmer climates.
3-SPEED QUIET OPERATION: This commercial mist fan is nice and quiet! You can sleep peacefully on your patio and not have to worry about the buzzing, clicking, or vibrating noise that many fans make. The 3-speed operation allows you to choose the setting you want so the temperature is always just right.
MORE THAN A COOLING SYSTEM: While the best place to use this cool mist fan is outside on patios and backyards, as well as during activities, it's much more versatile as well. With 10 gallon water tank, you can use it to mist tropical plants and give them the high humidity environment they need to survive.
EASILY ADJUSTABLE HEIGHT AND TELESCOPIC NECK: The good thing about this camping fan is how easily it adjusts to the height you want. Height ranges from as short as 60" and as tall as 76." This model also comes with a 90 Degree oscillating head. The side-to-side movement helps the standing fan cover a wider range and cools down the area faster.